Zen Swiftwing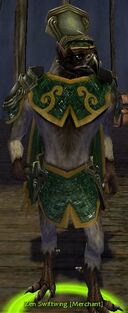 Classification
General
Zen Swiftwing is a Merchant.
Like all merchants, she buys and sells goods at a fixed price.
Location
Goods Offered
Trivia
During the first few weeks after the Factions Campaign was released, this merchant was bugged and refused to buy items from players.
Ad blocker interference detected!
Wikia is a free-to-use site that makes money from advertising. We have a modified experience for viewers using ad blockers

Wikia is not accessible if you've made further modifications. Remove the custom ad blocker rule(s) and the page will load as expected.