Zaishen Elementalist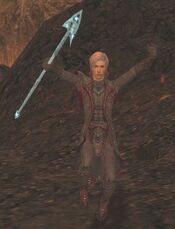 Classification
Description
Zaishen Elementalists are the damage dealing casters of the Zaishen group teams fight before getting into Heroes' Ascent. Their wards help protect their group, and beware of the interruption from Maelstrom.
Location
Skills Used
Notes
The Zaishen Elementalist, unlike other members of the Zaishen during this challenge, is always present. There is always only one Elementalist and he is always in the center of the Zaishen's formation.
Ad blocker interference detected!
Wikia is a free-to-use site that makes money from advertising. We have a modified experience for viewers using ad blockers

Wikia is not accessible if you've made further modifications. Remove the custom ad blocker rule(s) and the page will load as expected.