Yuli Tyden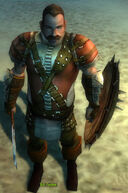 Classification
Location
Inside of the Tomb of the Primeval Kings during Wintersday.
Dialogue
"If you're looking for a good weapon, you've got to try one of those candy cane weapons the candysmiths make! 'Course, they don't do much damage, but they sure have a lot of Wintersday spirit! Now, don't go trying to eat them in battle; you'll either end up with a stomach ache or an axe in your head. Hahhaha!"
Trivia
His name is a word play on "Yule Tide".
Ad blocker interference detected!
Wikia is a free-to-use site that makes money from advertising. We have a modified experience for viewers using ad blockers

Wikia is not accessible if you've made further modifications. Remove the custom ad blocker rule(s) and the page will load as expected.