Yikaro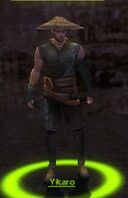 Classification
General
A Canthan peasant who lost his shelter pass and is now desperately looking for another way into the refugee camp.
Quests Given
Location
Dialogue
"I do not know how many more days I can look into my children's eyes and lie to them that things will get better. We really need to find shelter soon...."
Notes
Yikaro will no longer appear once you've completed his quest Seeking Shelter.