Xunlai Chest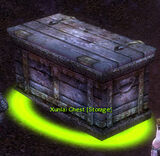 Classification
General
The Xunlai Chest NPCs allow a character to access the account's Vault Box. Roleplaying characters must pay a one-time fee of 50

to a Xunlai Agent to gain access to the Vault Box and the ability to use Xunlai Chests; PvP characters do not have to pay this fee.
Dialogue
"This vault is sealed by Xunlai magic. There is an inscription on the lid that reads: Talk to a Xunlai Agent to activate your storage account today!"
Notes
Trivia
Although Xunlai Chests are presented as inanimate objects, game mechanics treat them as level 24 NPCs (nine levels higher than a Xunlai Agent).
Ad blocker interference detected!
Wikia is a free-to-use site that makes money from advertising. We have a modified experience for viewers using ad blockers

Wikia is not accessible if you've made further modifications. Remove the custom ad blocker rule(s) and the page will load as expected.