Xang's Remedies and Potions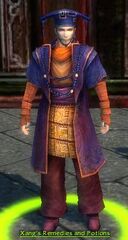 Classification
General
Xang is a collector cashing in on the fear spread by the plague. He is selling Xang's Extract as a cure for the plague.
Quests Involved In
Location
Skills Used
Dialogue
During Naga Oil:
"No matter the symptom, Xang's Extract is the answer! Taken regularly, Xang's Extract is invaluable for maintaining perfect health and happiness. Plague got you down? Try Xang's Extract! For the low, low price of 2 Naga Pelts, I will give you this:"
Quotes
During Street Justice:
"I warn you, I have people protecting me... important people!"
Collector Items
Xang's Remedies and Potions
Location: Wajjun Bazaar
Collecting: 2 Naga Pelts
Ad blocker interference detected!
Wikia is a free-to-use site that makes money from advertising. We have a modified experience for viewers using ad blockers

Wikia is not accessible if you've made further modifications. Remove the custom ad blocker rule(s) and the page will load as expected.