Wintersday Gift Giver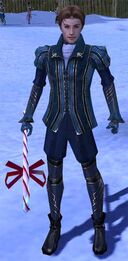 Classification
General
Wintersday Gift Giver trades 5 shards for 1 Wintersday Gift.
Location
Dialogue
"Can you believe this year's Wintersday festival? I haven't had this much fun in ages, and I haven't slept a wink because of it! Dwayna's avatar left me with a number of gifts to give out to those who collected candy cane shards. If you give me 5 Candy Cane Shards, I'll give you this in return:"
Collector items
Collecting: 5 Candy Cane Shards
Ad blocker interference detected!
Wikia is a free-to-use site that makes money from advertising. We have a modified experience for viewers using ad blockers

Wikia is not accessible if you've made further modifications. Remove the custom ad blocker rule(s) and the page will load as expected.