White Mantle Engineer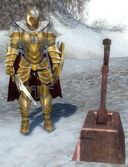 Classification
Description
White Mantle Engineers man the ballistae of the White Mantle. Killing them gives 2% Morale Boost and disables the ballista they are positioned on. They will not fight back when engaged but continue to fire the ballista.
Location
Skills used
Items dropped
Ad blocker interference detected!
Wikia is a free-to-use site that makes money from advertising. We have a modified experience for viewers using ad blockers

Wikia is not accessible if you've made further modifications. Remove the custom ad blocker rule(s) and the page will load as expected.