Ad blocker interference detected!
Wikia is a free-to-use site that makes money from advertising. We have a modified experience for viewers using ad blockers

Wikia is not accessible if you've made further modifications. Remove the custom ad blocker rule(s) and the page will load as expected.
White Mantle Champion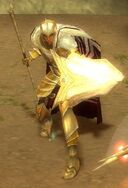 Classification
Description
White Mantle Champions are Paragons of the White Mantle. Their appearance is similar to White Mantle Knights'. As Paragons they wield a spear and a shield. They're part of the new White Mantle groups present in Kryta, since the beginning of War in Kryta.
Location
Skills used
Song of Restoration /
Stunning Strike /
Cautery Signet /
(17 Channeling Magic in Hard mode)
Soldier's Fury /
Items dropped