Whispering Ritual Lord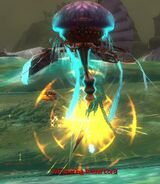 Classification
Map(s)

Location in Silent Surf
Description
Whispering Ritual Lord is an Irukandji Ritualist boss found in Silent Surf.
Location
Skills used
Items dropped
Notes
He does not spawn if you have the quest The Dragon Hunter active.
He makes a small rotation south of where the picture indicates. He is also surrounded by 3-4 groups so be sure not to rush in.
5 groups will walk to the place indicated in map even if you cross by them unnoticed.
He does not attach to any of the patrolling groups.
Ad blocker interference detected!
Wikia is a free-to-use site that makes money from advertising. We have a modified experience for viewers using ad blockers

Wikia is not accessible if you've made further modifications. Remove the custom ad blocker rule(s) and the page will load as expected.