Whimsical Djinn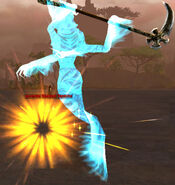 Classification
Description
Currently, this monster is only known to be available and present for those players who have activated the code for the Gray Giant miniature from PC Gamer Magazine, November 2006 issue.
Location
Skills Used
There are possibly more skills than those listed.
Items Dropped
Ad blocker interference detected!
Wikia is a free-to-use site that makes money from advertising. We have a modified experience for viewers using ad blockers

Wikia is not accessible if you've made further modifications. Remove the custom ad blocker rule(s) and the page will load as expected.