Wavecrest Stonebreak
Classification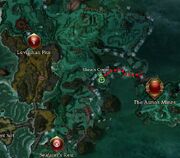 Description
Wavecrest Stonebreak is a turtle elementalist boss accompanied by Rockhide Dragons and Saltspray Dragons.
Location
Skills used
Items dropped
Notes
Wavecrest is quite mobile and wanders around the eastern perimeter of Rhea's Crater once you go near his spawn point. He usually travels towards Seafarer's Rest. Its group sometimes gets attacked by other monsters, including the group of Talous the Mad, but usually wins the fight. Let him finish fighting before attacking him.
Ad blocker interference detected!
Wikia is a free-to-use site that makes money from advertising. We have a modified experience for viewers using ad blockers

Wikia is not accessible if you've made further modifications. Remove the custom ad blocker rule(s) and the page will load as expected.