Watchman Bencis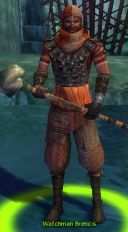 Classification
General
Watchman Bencis is a Luxon guarding the way to Cavalon and will only allow access to players after they accept or complete the quest Journey to Cavalon.
Quests Involved In
Location
Dialogue
On first arrival at the Zos Shivros Channel:
"Sorry, but since the war with the Kurzicks began heating up, I've been told that only those who are aligned with one of the three Clans are allowed into Cavalon.
Anything else you wanted to know?"
During quest Journey to Cavalon:
"Don't be scared. Ol'Clampy and Ol'Pinchy up there won't hurt you. Is there something I can do for you?"
Ad blocker interference detected!
Wikia is a free-to-use site that makes money from advertising. We have a modified experience for viewers using ad blockers

Wikia is not accessible if you've made further modifications. Remove the custom ad blocker rule(s) and the page will load as expected.