Warmaster Tharan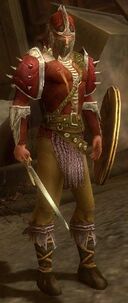 Classification
General
Warmaster Tharan is an officer of the Ascalon Army.
Location
Dialogue
"This place was once an abbey, but it's just a pile of broken bricks now. Horace over there has been here ever since the Charr attacked. we've taken him home to Ascalon City a number of times in hope that familiar sights might do him some good, but he always finds his way back here. Guess this is a home for him now."
Ad blocker interference detected!
Wikia is a free-to-use site that makes money from advertising. We have a modified experience for viewers using ad blockers

Wikia is not accessible if you've made further modifications. Remove the custom ad blocker rule(s) and the page will load as expected.