Volatiss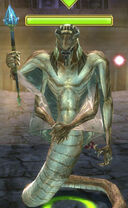 Classification
General
Volatiss holds his post inside Throne of Secrets to teleport people to Kamadan, during which the final end-game cinematic will be played.
Location
Dialogue
"How courageous! How stalwart you are! Ah, but you must be ready for home and hearth. It is time to return to the lands you know. Are you ready to leave this place? If you are, then my sacred wind magic can take you wherever you need to go. "
Player response: "Can you take me to Kamadan?"
"Of course. Let me know when you are ready"
Accept: "I am ready."
Reject: "I am not ready."
Ad blocker interference detected!
Wikia is a free-to-use site that makes money from advertising. We have a modified experience for viewers using ad blockers

Wikia is not accessible if you've made further modifications. Remove the custom ad blocker rule(s) and the page will load as expected.