Ad blocker interference detected!
Wikia is a free-to-use site that makes money from advertising. We have a modified experience for viewers using ad blockers

Wikia is not accessible if you've made further modifications. Remove the custom ad blocker rule(s) and the page will load as expected.
Vixx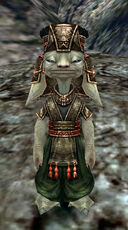 Classification
Dialogue
"Shhh. No one tell Oola I'm down here. I am going to best her at golemancy by stealing her secrets right from underneath that smug nose of hers. Bring me 5 Golem Runestones in exchange for:"
Collector Items
Vixx
Location: Oola's Lab, first level, just northwest from the entrance
Collecting: 5 Golem Runestones