Vermin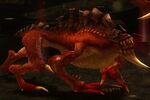 Classification
Description
Vermin are creatures found scurrying about in the narrow alleyways of Xaquang Skyway in Kaineng City. They travel in packs of three or four. They can quickly swarm teams, leading to catastrophic results.
Location
Skills used
Normal Mode
Hard Mode
Items dropped
Ad blocker interference detected!
Wikia is a free-to-use site that makes money from advertising. We have a modified experience for viewers using ad blockers

Wikia is not accessible if you've made further modifications. Remove the custom ad blocker rule(s) and the page will load as expected.