Venomweaver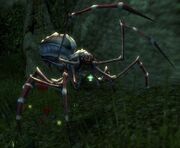 Classification
Description
Venomweavers are rangers whose main strength is their range of utility bow skills. They can snare a target in their web before rapidly firing a volley of arrows at a target. Each arrow can have a different effect, ranging from crippling their movements or poisoning them.
Locations
Skills used
Items dropped
Notes
Ad blocker interference detected!
Wikia is a free-to-use site that makes money from advertising. We have a modified experience for viewers using ad blockers

Wikia is not accessible if you've made further modifications. Remove the custom ad blocker rule(s) and the page will load as expected.