Vehjin Mines
Basic Info
Neighbor(s)
Basalt Grotto,

Jennur's Horde, Holdings of Chokhin
Map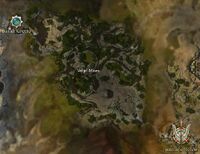 (click to enlarge)
General Information
The Vehjin Mines are an Explorable area in the far west of Vabbi. According to Assistant Jenhan, the mines are a source of precious gems. The tops of the mesas here are surprisingly green; unfortunately, they cannot be reached from the valleys below.
Exits, shrines and blessings
Quests
Vehjin Mines
Creatures
NPCs
Monsters
Bosses
Notes
Trivia
The NPC's Moh, Lahri, and Kurli are a play on the names of The Three Stooges.
---
Ad blocker interference detected!
Wikia is a free-to-use site that makes money from advertising. We have a modified experience for viewers using ad blockers

Wikia is not accessible if you've made further modifications. Remove the custom ad blocker rule(s) and the page will load as expected.