Vaughn the Venerable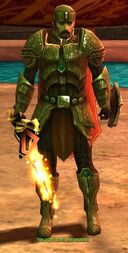 Classification
General
Vaughn the Venerable is an NPC who shows up during the Tihark Orchard (mission).
Location
Skills used
Dialogue
In Tihark Orchard
"Yes, yes hello there, friend. Joyous salutations and pleasantrisms abound! It seems ages since we've swapped tales and drunk ales, hasn't it? Wait, who are you again?"
In Bokka Amphitheatre during All's Well That Ends Well
"Good day to you, my old friend. It is always pleasant to see a friendly face, and a familiar one like yours is ever more pleasant. Wait, who are you again?"
Notes
Trivia
Ad blocker interference detected!
Wikia is a free-to-use site that makes money from advertising. We have a modified experience for viewers using ad blockers

Wikia is not accessible if you've made further modifications. Remove the custom ad blocker rule(s) and the page will load as expected.