Vask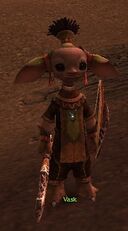 Classification
General
Vask is an Asura who travels with you under Commander Hixx's command in the battle against the Spider Matriarchs in Arachni's Haunt.
Quests Involved In
Location
Skills used
Notes
Should Vask or his companions die during the quest, it will *not* affect the player's ability to complete the quest. They usually auto-resurrect after a short time.
Ad blocker interference detected!
Wikia is a free-to-use site that makes money from advertising. We have a modified experience for viewers using ad blockers

Wikia is not accessible if you've made further modifications. Remove the custom ad blocker rule(s) and the page will load as expected.