Ad blocker interference detected!
Wikia is a free-to-use site that makes money from advertising. We have a modified experience for viewers using ad blockers

Wikia is not accessible if you've made further modifications. Remove the custom ad blocker rule(s) and the page will load as expected.
Vampiric Gaze

Full: Steal up to 18...52 Health from target foe.
Concise: Steals 18...52 Health.
| | | | | | | | | | | | | | | | | | | | | | | |
| --- | --- | --- | --- | --- | --- | --- | --- | --- | --- | --- | --- | --- | --- | --- | --- | --- | --- | --- | --- | --- | --- | --- |
| Blood Magic | 0 | 1 | 2 | 3 | 4 | 5 | 6 | 7 | 8 | 9 | 10 | 11 | 12 | 13 | 14 | 15 | 16 | 17 | 18 | 19 | 20 | 21 |
| Health | 18 | 21 | 24 | 26 | 29 | 32 | 35 | 38 | 40 | 43 | 46 | 49 | 52 | 54 | 57 | 60 | 63 | 66 | 68 | 71 | 74 | 77 |
Acquisition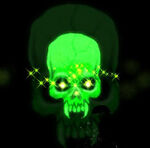 Related skills
Related articles