Valetudo Rubor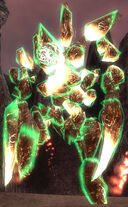 Classification
Map(s)

Hell's Precipice
Description
Valetudo Rubor is a Titan ranger boss that shares a random spawn location with other Titan bosses in the Prophecies mission Hell's Precipice.
Location
Skills used
Items dropped
Notes
Trivia
In Latin, valetudo means 'good health, soundness', while rubor means 'redness, blush'. As those two words don't have a relationship - they're both in nominative case - the name would be simply 'Soundness Redness".The individual words translate into English as vale - "is allowed" and tudo - "everything", but the term means anything goes) describes competitions in unarmed combat having minimal rules.
Ad blocker interference detected!
Wikia is a free-to-use site that makes money from advertising. We have a modified experience for viewers using ad blockers

Wikia is not accessible if you've made further modifications. Remove the custom ad blocker rule(s) and the page will load as expected.