Ad blocker interference detected!
Wikia is a free-to-use site that makes money from advertising. We have a modified experience for viewers using ad blockers

Wikia is not accessible if you've made further modifications. Remove the custom ad blocker rule(s) and the page will load as expected.
Vabbian Commoner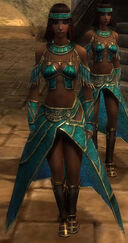 Classification
General
Vabbian Commoners comprise the general population of Vabbi and are found in various locations throughout the region of Vabbi.
Location
Vabbi (various locations)
Dialogue
Prior to Tihark Orchard (mission):
After completing Tihark Orchard:
After completing Dasha Vestibule (mission), the lines change to:
After completing Dzagonur Bastion (mission), the lines instead become:
After completing Grand Court of Sebelkeh (mission):
After completing Ruins of Morah (mission):
---
---
After completion of the campaign: