Ad blocker interference detected!
Wikia is a free-to-use site that makes money from advertising. We have a modified experience for viewers using ad blockers

Wikia is not accessible if you've made further modifications. Remove the custom ad blocker rule(s) and the page will load as expected.
Vabbi Trade Official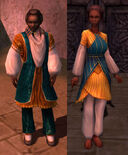 Classification
General
Vabbi Trade Officials are collectors offering items in exchange for various amounts of Trade Contracts.
Location
Dialogue
All the officials use the same dialogue:
"Business is life, and life is good! We honor most contracts! Doesn't matter where they're from; the paper is often worth more than the words! If you bring me X Trade Contracts, I will give you this in return:"
Collector Items
Vabbi Trade Official
Location: The Kodash Bazaar
Collecting: 1 Trade Contracts
Vabbi Trade Official
Location: The Kodash Bazaar
Collecting: 3 Trade Contracts
Vabbi Trade Official
Location: The Kodash Bazaar
Collecting: 5 Trade Contracts
Vabbi Trade Official
Location: The Kodash Bazaar
Collecting: 7 Trade Contracts
Notes
Contrary to most collectable quest items, the best value is not to trade five for a Superior Salvage Kit, but rather to trade seven for a gem. (Be sure to check the trader value of the gems first.)