Vabbi Guard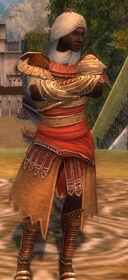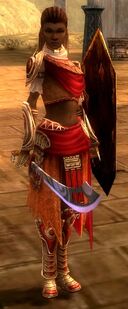 Classification
General
Vabbi Guards are the primary protectors of Vabbi. They can usually be found in outposts and towns all over Vabbi.
Location
Skills used
Dialogue
After completing Dasha Vestibule (mission):
"Did you notice my new armor?"
"If you've got the gold, I've got the sword. Damn, where's my sword."
"I don't trust that Varesh. She's got more troops in Vabbi than our own army."
"It's just not right. Princes of Vabbi hiding like moles in the ground."
After completing Gate of Desolation (mission):
"It's over. It's all over. There's nothing left"
"This is all strangely familiar."
"Stand your ground. It's all we have left."
"Nightfall's coming, and I can't find my son. Have you seen him?"
"Can't we just pay Varesh not to have Nightfall?"
Ad blocker interference detected!
Wikia is a free-to-use site that makes money from advertising. We have a modified experience for viewers using ad blockers

Wikia is not accessible if you've made further modifications. Remove the custom ad blocker rule(s) and the page will load as expected.