So HI.
Never had a wiki page before, so this will be a bit bare. If any kind soul who stumbles upon this page could explain to me about how to make fancy userpages and such, it would be Extra-Great!
I play Guild Wars far too much for someone of my age, but I really don't care. I live in England (gogo rain!)and I'm not a huge fan of it.
My Characters
Edit
Chokehold Healer
Edit
My main, and pride and joy. If you can't tell what profession by the name, shoot yourself plox.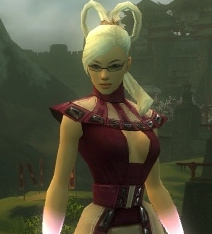 Oval Headspring
Edit
My mesmer, made by picking two words from a dictionary. She's my alt char.
C H O K E Y
Edit
My money maker, I run UW,FoW and Darkrime Delves on her. Ninja ftw, imo.
4 Others, who don't deserve a small bio.
Edit
Warrior,Necro,Rit and Paragon.
Userboxes GoGo=
Edit