What drops it
Collectors
Armor collectors
Location: Fort Ranik and in Regent Valley with the Bear Hunters
Collecting: 5 Unnatural Seeds
General collectors
Location: Lakeside County, in Ashford Village south of Ashford Abbey
Collecting: 3 Unnatural Seeds
Gift collectors
Location: Regent Valley, in The Secret Garden outside of Fort Ranik.
Collecting: 5 Unnatural Seeds, on some days
He only gives up to 5 Gifts of the Huntsman per account each day.
Farming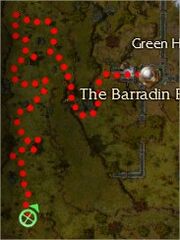 Concerning the Farming Path. There's a few more to the east at the end.
Ad blocker interference detected!
Wikia is a free-to-use site that makes money from advertising. We have a modified experience for viewers using ad blockers

Wikia is not accessible if you've made further modifications. Remove the custom ad blocker rule(s) and the page will load as expected.