Ad blocker interference detected!
Wikia is a free-to-use site that makes money from advertising. We have a modified experience for viewers using ad blockers

Wikia is not accessible if you've made further modifications. Remove the custom ad blocker rule(s) and the page will load as expected.
What drops it
Collectors
Armor collectors
Location: Fort Ranik and in Regent Valley with the Bear Hunters
Collecting: 5 Unnatural Seeds
General collectors
Location: Lakeside County, in Ashford Village south of Ashford Abbey
Collecting: 3 Unnatural Seeds
Gift collectors
Location: Regent Valley, in The Secret Garden outside of Fort Ranik.
Collecting: 5 Unnatural Seeds, on some days
He only gives up to 5 Gifts of the Huntsman per account each day.
Farming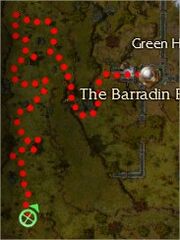 Concerning the Farming Path. There's a few more to the east at the end.