Unlucky Simon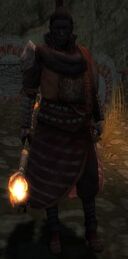 Classification
General
Unlucky Simon is a known associate of Margrid the Sly. He is also the mission access NPC for the Moddok Crevice mission.
Quests Involved In
Location
Dialogue
In Marga Coast, during For a Price:
"My name isn't a joke, and it isn't funny. I have lost every bet I've ever made, and broken nearly every bone in this frail body more than once. Why do the gods curse me so?"
In Moddok Crevice:
Let us make haste to Vabbi!

"When you and Dunkoro are ready to head out, I'll clear the way."
Ad blocker interference detected!
Wikia is a free-to-use site that makes money from advertising. We have a modified experience for viewers using ad blockers

Wikia is not accessible if you've made further modifications. Remove the custom ad blocker rule(s) and the page will load as expected.