Unbound Spirit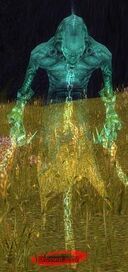 Classification
Description
The Unbound Spirit can be found during the quest Power Surge, summoned as a result of Jakimo's failure at performing an advanced binding ritual. It has to be destroyed to complete the quest.
Location
Skills used
None
Notes
Unlike most spirits, and despite its appearance, the Unbound Spirit is mobile.
Ad blocker interference detected!
Wikia is a free-to-use site that makes money from advertising. We have a modified experience for viewers using ad blockers

Wikia is not accessible if you've made further modifications. Remove the custom ad blocker rule(s) and the page will load as expected.