Uhisheh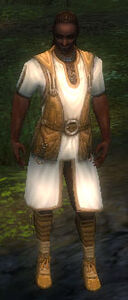 Classification
Dialogue
"My father was murdered by the rinkhal monitors that infest these lands. He sought only food to keep his family alive, and the creatures butchered him to feed their own young. Now I am a hunter, and I plan to eliminate their foul race from the face of Elona. Retrieve for me 1 Rinkhal Talon, and I will repay you handsomely with:"
Collector Items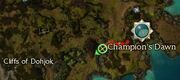 Uhisheh
Location: Cliffs of Dohjok west of the portal to Champion's Dawn.
Collecting: 1 Rinkhal Talon
Notes
Ad blocker interference detected!
Wikia is a free-to-use site that makes money from advertising. We have a modified experience for viewers using ad blockers

Wikia is not accessible if you've made further modifications. Remove the custom ad blocker rule(s) and the page will load as expected.