Turimachus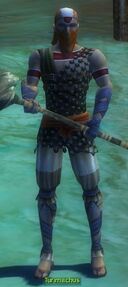 Classification
General
Turimachus is the legendary Dragon Hunter.
Quests Given
Location
Skills Used
Dialogue
"Have you ever seen a Saltspray Dragon in a full feeding frenzy? It's a thing of beauty!"
Quotes
During the given quest:
"Look at that! A real beauty!"
"Oh yes. It looks like we've gone and agitated them. Try not to look so aggressive, would you?"
"That was close!"
Notes
Turimachus only seems to use "Charge!" while he is under attack, or while carrying the Saltspray Dragon Egg.
Ad blocker interference detected!
Wikia is a free-to-use site that makes money from advertising. We have a modified experience for viewers using ad blockers

Wikia is not accessible if you've made further modifications. Remove the custom ad blocker rule(s) and the page will load as expected.