Tuomas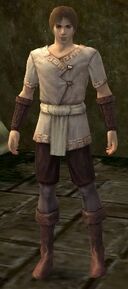 Classification
Tuomas is a Scribe collector who awards Charr weapons in exchange for an authorized copy of Gwen's Story.
Location
Dialogue
"Hello there! Would you by chance have an authorized copy of "Gwen's Story" on you? I wish to send one home for the Ascalon City archives. We have heard about Gwen's trials since she left Ascalon City, and I believe her story will inspire the people of Ascalon as it has inspired me."
Collector Items
Tuomas
Location: Lion's Arch, Kaineng City and Kamadan
Collecting: 1 Gwen's Story [Authorized]
Ad blocker interference detected!
Wikia is a free-to-use site that makes money from advertising. We have a modified experience for viewers using ad blockers

Wikia is not accessible if you've made further modifications. Remove the custom ad blocker rule(s) and the page will load as expected.