Description
The Tribal Axe is a large axe with pitted blade and small downward-curving poll. A max damage Tribal Axe was rare before Eye of the North; while it is still relatively uncommon, it is nowhere near the previous level of scarcity.
Location
Monsters
Dye
The Tribal axe is dyed red by default. Dye fully colors the weapon.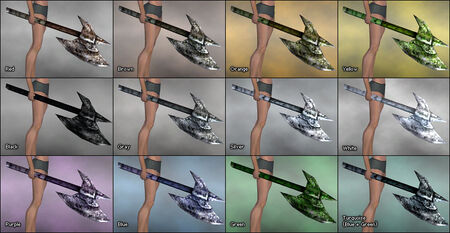 Notes
The PvP reward version of this item will not dye at all.
Ad blocker interference detected!
Wikia is a free-to-use site that makes money from advertising. We have a modified experience for viewers using ad blockers

Wikia is not accessible if you've made further modifications. Remove the custom ad blocker rule(s) and the page will load as expected.