Traybor Edwards
Classification
Map(s)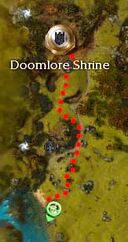 (click to enlarge)
Dialogue
"I'm tired of all those Norn hanging about the Eye of the North lately, boasting on and on about some great behemoth they just killed or their recent slaughter of a thousand bugs with nothing but their thumbs. Bah!
I want to show them a trophy that will finally shut their giant yaps for good.
So I'm creating an entire suit of armor made from "skale fangs". I just need a few more for my next piece. If your bring me 5 Skale Fangs, I'll gladly give you this in return:"
Collector Items
Traybor Edwards
Location: Dalada Uplands, south of the Doomlore Shrine
Collecting: 5 Skale Fangs
Trivia
This collector is possibly named after the Welsh tenor Trebor Edwards.
Ad blocker interference detected!
Wikia is a free-to-use site that makes money from advertising. We have a modified experience for viewers using ad blockers

Wikia is not accessible if you've made further modifications. Remove the custom ad blocker rule(s) and the page will load as expected.