Tower of Courage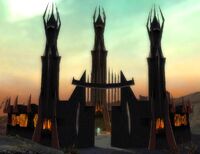 Basic Info
Neighbor(s)
None
Description
The Tower of Courage in the Fissure of Woe is of great significance to Balthazar and his army of Eternals. The Tower is overtaken by forces from the Shadow Army led by Shadow Lord Vogris. The first Fissure quest available to the party, Tower of Courage, takes place here.
To reach the Tower, head east from the fissure starting point, following the path uphill, through Shadow Army patrols. From the Tower, players can head east to the Great Battle Field and the Temple of War or south to the Fissure Shore.
Quests in this Area
Notes
Ad blocker interference detected!
Wikia is a free-to-use site that makes money from advertising. We have a modified experience for viewers using ad blockers

Wikia is not accessible if you've made further modifications. Remove the custom ad blocker rule(s) and the page will load as expected.