Tortitudo Probo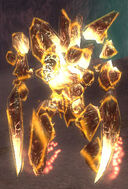 Classification
Map(s)

Hell's Precipice
Description
Tortitudo Probo is a Titan warrior boss.
Location
Skills used
Items dropped
Notes
Trivia
In Latin, Tortitudo means 'crookedness, injustice, wickedness, insincerity'. Probo means 'to demonstrate, find good, judge'. The full name therefore, may mean "I demonstrate wickedness".
Ad blocker interference detected!
Wikia is a free-to-use site that makes money from advertising. We have a modified experience for viewers using ad blockers

Wikia is not accessible if you've made further modifications. Remove the custom ad blocker rule(s) and the page will load as expected.