Tohsedi
Classification
Dialogue
"At last! A friendly face. I twisted my ankle traveling toward Yohlon Haven. Now, it's swollen up like a balloon! I bet one of those foul bugs dug that hole I stepped in. They're everywhere. Hey, if you could get me a few of their sturdy shells I could rope them together and make a crutch. That ought to work until I get to town. Would you be willing to do that for me? I should only need 5 Insect Carapaces, and I'd be glad to trade you something in return:"
Collector Items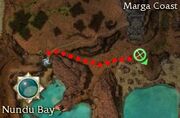 Tohsedi
Location: Marga Coast, east of Nundu Bay, south of the Kournan Garrison
Collecting: 5 Insect Carapaces
Ad blocker interference detected!
Wikia is a free-to-use site that makes money from advertising. We have a modified experience for viewers using ad blockers

Wikia is not accessible if you've made further modifications. Remove the custom ad blocker rule(s) and the page will load as expected.