Ting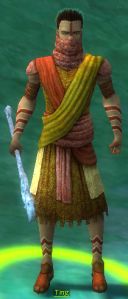 Classification
General
Ting is a member of Captain Rion's crew. He appears to be the brother of Hannai, also with Captain Rion.
Quests Involved In
Location
Skills used
Dialogue
"Hannai isn't well, but I have high hopes that her mind can be healed in time. In time for what? That's the question."
Quotes
"Hannai, you can stop hurting them once they're dead!"
"Have you met my sister? She wants to meet you. And she wants to kick you."
"Watch out, Hannai!"
Trivia
Ad blocker interference detected!
Wikia is a free-to-use site that makes money from advertising. We have a modified experience for viewers using ad blockers

Wikia is not accessible if you've made further modifications. Remove the custom ad blocker rule(s) and the page will load as expected.