Tina the Tonic Maker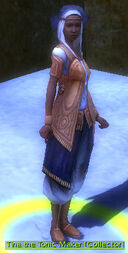 Classification
Dialogue
"My husband and I have derived a most wonderful potion we've been able to create using the essence of frozen ectoplasm and some of our own magical powers. If you bring me 1 Glob of Frozen Ectoplasm I'll give you this in return:"
Tina the Tonic Maker
Location: Kamadan
Collecting: 1 Glob of Frozen Ectoplasm
Item
Stats
Yuletide Tonic
Uses Remaining: 1
Double Click to embody the spirit of Wintersday. This item cannot be used in PvP.
Ad blocker interference detected!
Wikia is a free-to-use site that makes money from advertising. We have a modified experience for viewers using ad blockers

Wikia is not accessible if you've made further modifications. Remove the custom ad blocker rule(s) and the page will load as expected.