Thenemi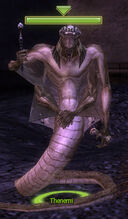 Classification
General
Thenemi is a member of the Oddbodies, a group of misfits among the forces of Forgotten fighting Abaddon in the Realm of Torment. Thenemi is the finicky mesmer accused of also being cowardly by Archivist Zisthus.
Quests Involved In
Location
Skills Used
Dialogue
"I don't trust you, stranger, but then I don't trust anyone. Present company included."
Ad blocker interference detected!
Wikia is a free-to-use site that makes money from advertising. We have a modified experience for viewers using ad blockers

Wikia is not accessible if you've made further modifications. Remove the custom ad blocker rule(s) and the page will load as expected.