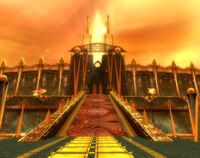 The Vault is a waiting hall where teams who successfully made it through all other qualifying maps of the Global Tournament wait to advance to the Hall of Heroes, the final battle.
There is no opposing team and nothing productive to do in The Vault.
Notes:
You can get Death Penalty on this map.
People who die are resurrected every minute.
Ad blocker interference detected!
Wikia is a free-to-use site that makes money from advertising. We have a modified experience for viewers using ad blockers

Wikia is not accessible if you've made further modifications. Remove the custom ad blocker rule(s) and the page will load as expected.