The Pain Eater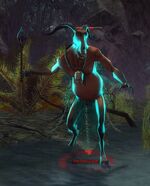 Classification
Map(s)

Path from The Eternal Grove

Path from Brauer Academy
Description
This Gaki boss is paired with another Ritualist boss called The Skill Eater.
Location
Skills used
Items dropped
Notes
If capturing the Elite Clamor of Souls, take note that another Ritualist boss - The Skill Eater - spawns in the same group with the Elite Attuned Was Songkai, so you might want to take 2 Signets of Capture.
Ad blocker interference detected!
Wikia is a free-to-use site that makes money from advertising. We have a modified experience for viewers using ad blockers

Wikia is not accessible if you've made further modifications. Remove the custom ad blocker rule(s) and the page will load as expected.