The Inquisitor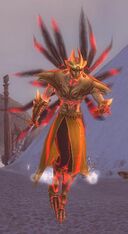 Classification
Map(s)

Iron Mines of Moladune
Description
The Inquisitor is a powerful Mursaat elementalist in charge of interrogating the Shining Blade prisoners of the White Mantle. Killing the Inquisitor is the bonus objective of the Iron Mines of Moladune mission.
Location
Skills used
Items dropped
Notes
Of the 6 Mursaat bosses with Thunderclap this is the only boss with a single and guaranteed spawning point.
Ad blocker interference detected!
Wikia is a free-to-use site that makes money from advertising. We have a modified experience for viewers using ad blockers

Wikia is not accessible if you've made further modifications. Remove the custom ad blocker rule(s) and the page will load as expected.