The Deep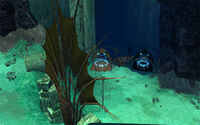 Basic Info
Neighbor(s)
Cavalon
For information on the mission, see The Deep (mission).
Description
This location is the staging area for the Elite Mission of the same name. The maximum party size is 12.
Getting there
There are two ways to gain access:
Exits
None
NPCs
Notes
Ad blocker interference detected!
Wikia is a free-to-use site that makes money from advertising. We have a modified experience for viewers using ad blockers

Wikia is not accessible if you've made further modifications. Remove the custom ad blocker rule(s) and the page will load as expected.