The Bog Beast of Bokku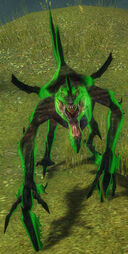 Classification
Description
Killing the Bog Beast of Bokku is the object of the quest The Bog Beast of Bokku.
Location
Skills used
Items dropped
Notes
Try to remove Rising Bile as soon as possible.
It has an appearance similar to a Thorn Wolf.
Headmaster Vhang states he has beaten the beast before this quest.