The Blasphemy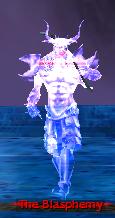 Classification
Description
One of Abaddon's demonic servants. Like The Drought and The Hunger, The Blasphemy is in the service of Varesh Ossa to bring about the Nightfall. It attempts, along with a host of Margonite soldiers, to overrun and defile the floating Sebelkeh Basilica. The Blasphemy has an extremely low Health total for a monster of its level.
Location
Skills used
Notes
Ad blocker interference detected!
Wikia is a free-to-use site that makes money from advertising. We have a modified experience for viewers using ad blockers

Wikia is not accessible if you've made further modifications. Remove the custom ad blocker rule(s) and the page will load as expected.