The Afflicted Hakaru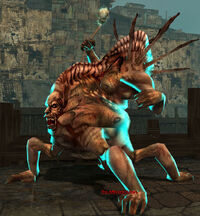 Classification
Map(s)

Location in Pongmei Valley
from Boreas Seabed
Description
The Afflicted Hakaru is a Ritualist boss that can be found east of Maatu Keep in Pongmei Valley, not far from the Northern limits of the area. It could also be reached in similar distance from Boreas Seabed, the first Luxon mission.
Location
Skills used
Items dropped
Notes
Trivia
The word "hakaru" in Japanese means "to measure".
Ad blocker interference detected!
Wikia is a free-to-use site that makes money from advertising. We have a modified experience for viewers using ad blockers

Wikia is not accessible if you've made further modifications. Remove the custom ad blocker rule(s) and the page will load as expected.