Terrorweb Queen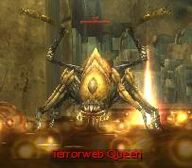 Classification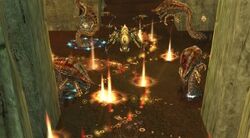 Description
The Terrorweb Queen is the queen of the Terrorweb Dryders assaulting The Underworld. Slaying her is the objective of the quest Terrorweb Queen. She is guarded by four Obsidian Guardians who greatly increase her resistance to damage with their wards.
Location
Skills used
Items dropped
Notes
It is best to pull her slightly out of the range of the wards of the Obsidian Guardians so that she is not highly resistant to damage.
She has a considerably large amount of health.
Ad blocker interference detected!
Wikia is a free-to-use site that makes money from advertising. We have a modified experience for viewers using ad blockers

Wikia is not accessible if you've made further modifications. Remove the custom ad blocker rule(s) and the page will load as expected.