Temple Acolyte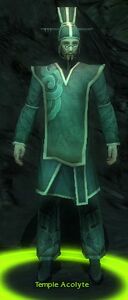 Classification
General
There are two Temple Acolytes in the temple.
Location
Dialogue
"It is said that a journey to the Hall of Heroes may win you and your allies the divine favor of the gods."
"The scrolls declare that while our world was the first, the gods departed to create others after the ancient Exodus."
"We must win the favor of the gods if we are to gain the blessings of the heavens."
Notes
Ad blocker interference detected!
Wikia is a free-to-use site that makes money from advertising. We have a modified experience for viewers using ad blockers

Wikia is not accessible if you've made further modifications. Remove the custom ad blocker rule(s) and the page will load as expected.